Were you looking for Adventure BB's counterparts?: Adventure JJ, DeeDee, Adventure Phantom Balloon Boy, Adventure Nightmare Balloon Boy, Ballboy, BrowBoy, or Brow Boy?
"Everyone's favorite!"
- BB's loading message.

Balloon Boy or known as BB is a unlockable character in FNaF World.
Balloon Boy has a similar appearance to his counterpart from the main series, except he lacks his sign, and is smaller. He has a humanoid appearance with peach skin, brown hair, blue eyes and red cheeks. He wears a red and blue striped shirt and blue pants.
Balloon Boy is a playable character in FNaF World and is unlocked via fighting him and winning the battle, adding him to your party.
Balloon Boy's attacks are:
- A red attack that deals damage to enemies randomly 3 times, they can cause a good damage. However, these can possibly deal only 1 damage.
- A red attack that deals damage over time.
- A red attack that deals damage over a small amount of time.
Battle Theme for Balloon Boy:
Which Human Animatronic is the best?
His new image doesn't have the sign that says "Balloons!" that he had in FNaF 2.
The original BB had an orange nose but Adventure BB has a red nose.

BB also had black buttons, but Adventure BB has white. This may be referred to the lighting error when BB is in The Office.

In the loading screen Scott said BB was "Everyone's Favorite!" This was meant to be a joke, as most of the fans of FNaF hate him.
In BB's attack animation, he appears to be giving his balloon. This is referred to his career in the core series.
BB is the only character with only red attacks, as Chica has only pink, RWQFSFASXC, Marionette and the Paperpals have only yellow attacks, and Phantom Freddy has only purple.

This is likely because his theme color is reddish, similar to JJ being purplish.

During his attacking animation, it seems his balloon clips through his propeller.
According to his attacking animation, it shows that he has real body parts instead of the pants being stuck on him (ex: toy chica's cupcake)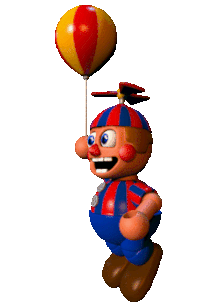 Community content is available under
CC-BY-SA
unless otherwise noted.