Where you looking for his counterpart?: Snowcone?
Bouncer is a boss found in Dusting Fields in FNaF World. He is also the first mandatory boss in said game.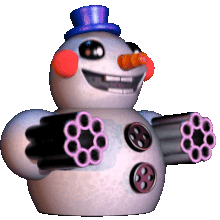 Bouncer has the appearance of a big, legless snowman animatronic with minigun barrels for hands, and a smile identical to Balloon Boy. He has two buttons on his chest, two red cheeks, a round carrot nose, and a blue top hat on his head. His eyes are black in color with white irises.
Bouncer guards a glitched object in Dusting Fields. Bouncer's has an attack where he fires snowballs from his machine guns, doing large amounts of damage.
His model, sprite, and attacks are exactly the same as Snowcone
Bouncer's name may be a reference to his animation, as he looks like he is jumping.

His name may also be a reference to bouncers, who are people that typically work in clubs to provide security.