Party Members are the characters you can put into your two parties for use in battle. Each party can use 4 characters. There are 48 (40 in OG) characters to change out in your party. A single 4 character party can have 91,390 unique combinations. The beginning characters you start out with are Freddy Fazbear, Bonnie, Chica, Foxy, Toy Freddy, Toy Bonnie, Toy Chica, and Mangle. The others you can collect by means of a random encounter after any battle. The Party Creator can be accessed by either getting a Game Over, touching the "Party" button on the overworld, creating a save file, or loading up a save file. The list goes from Freddy (1) to Purple Guy (48). Update 2 brought in several new characters that not only introduced a new attack type (Blazing Orange.) But are also quite unique by the fact that you have to play 4 different minigames and finish them with a rank or time limit, none of the Update 2 characters can be encountered randomly in battles you can edit your unlocked characters in the files
Featured characters:
From Five Nights at Freddy's:
Classics
From Five Nights at Freddy's 2:
Toys
Withereds
Shadows
Outros
From Five Nights at Freddy's 3: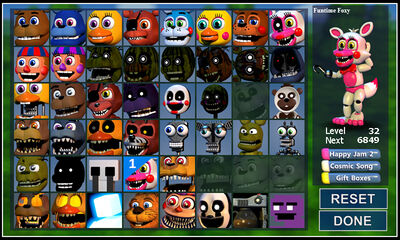 Use the scroll bar at the bottom of the page to see the rest of the descriptions of each character.
Name
Idle Animation
Attack Animation (Slowed down for viewing purposes)
Icon
Loading Screen
Attacks
Game From

Bonnie

Chica

Foxy

Toy Bonnie

Toy Chica

Toy Freddy

Mangle

BB

JJ

Phantom Freddy

Phantom BB

Phantom Foxy

Phantom Mangle

Withered Bonnie

Withered Chica

Withered Freddy

Withered Foxy

Shadow Freddy

Marionette

(a.k.a. the Puppet)

Phantom Marionette

(a.k.a. Phantom Puppet)

Golden Freddy

Paper Pals

Nightmare Freddy

Nightmare Bonnie

Nightmare Chica

Nightmare Foxy

Endo 01

Endo 02

Plushtrap

Endoplush

Springtrap

RWQFSFAXC

(a.k.a. RWQ/Shadow Bonnie/RXQ)

Crying Child

Funtime Foxy 

Nightmare Fredbear

Nightmare

Fredbear

Springbonnie

Jack-O

Jack-O-Chica

Animdude

NONE

NONE
Mr.Chipper

NONE
Nightmare BB

Nightmarionne

(a.k.a. Nightmare Puppet/Nightmare Marionette)

Coffee

NONE
Purple Guy
Community content is available under
CC-BY-SA
unless otherwise noted.