I did a lot of looking and bighting and stuff and I found many stuff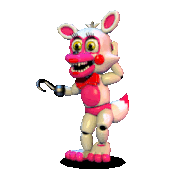 1 Funtime Foxy or Mangle? the truth there not the same mangle has cheeks and eyelashes she also has no hair on her cheeks so there for its a NON MATCH
2 Funtime Marionette on funtime foxies cheek it has all colours to be like the marionette if missed have a look yourself and say what you think 3 Beauty Inside or Death Ballora is not only keeping her eyes closed but her mouth hidden her endo teeth are very sharp
4 Mini Rena Ballora and Mini Rena hmm put some parts and you get ballerina but its missing a e but could mini rena be in balloras eyes or back
5 Spring bonnie on funtime freddies mouth there appears to be a spring bonnie scott even showed us what could this be
6 Five handed Spring lock Suit Most of these more newer animtronicw have 5 fingers and a spring lock suit has 5 are they wearable
7 Factory or show stage on babies screen her reflective skin looks colour full but most likely a curtain what does it mean?
8 Sugar Frost Fairy Ballora seems to have one foot stuck on the ground while performing does she move or does mini rena do it
9 The Cut of 87 not to be paranoid but why does she have the most cuts in her faces is scott hiding something
10 Spko Their Endos are circular with spike are the endo skeletons going to do all the scaring
11 The main Star in fnaf one who has the most similar hair style hmm that's right the girl on the sidewalk she is the closes to baby is she a dead child or is scott tricking us
Thanks For Reading What do you think!!!!
Community content is available under
CC-BY-SA
unless otherwise noted.